| | | | | | | | |
| --- | --- | --- | --- | --- | --- | --- | --- |
| 0 | 48.406528127073784 | 14.840191450674723 | | Markt 24, 4280 Königswiesen, Austria | | | |
| 1 | 48.40660184833837 | 14.840248686519942 | | Markt 24, 4280 Königswiesen, Austria | | | |
| 2 | 48.40667682403438 | 14.840336338359066 | | | | | |
| 3 | 48.40680516601773 | 14.840432882253339 | | Markt 23, 4280 Königswiesen, Austria | | | |
| 4 | 48.40693369046693 | 14.840510561355643 | | Markt 22, 4280 Königswiesen, Austria | | | Why is this church so famous |
| 5 | 48.407347257363256 | 14.840841887662094 | | Markt 18, 4280 Königswiesen, Austria | | | |
| 6 | 48.40799791685615 | 14.841482393200437 | | | | | |
| 7 | 48.408253315764426 | 14.841796942110221 | | | | | |
| 8 | 48.40833532826912 | 14.841949573194427 | | Markt 12, 4280 Königswiesen, Austria | | | |
| 9 | 48.40892656508129 | 14.842222227093146 | | Alte Straße 5, 4280 Königswiesen, Austria | | | |
| 10 | 48.40926668811201 | 14.842346971020675 | | Alte Straße 11, 4280 Königswiesen, Austria | | | |
| 11 | 48.40956973151509 | 14.842562284389203 | | Alte Straße 13, 4280 Königswiesen, Austria | | | |
| 12 | 48.40989797874764 | 14.842990403553927 | | | | | |
| 13 | 48.40998563182609 | 14.843224622063957 | | | | | |
| 14 | 48.41002835049531 | 14.843417582773924 | | Alte Straße 4, 4280 Königswiesen, Austria | | | |
| 15 | 48.4100387523971 | 14.843670147290624 | | Alte Straße 21, 4280 Königswiesen, Austria | | | |
| 16 | 48.4100071746214 | 14.843862367801336 | | | | | |
| 17 | 48.409921975629544 | 14.844005227703718 | | Friedhofstraße 3, 4280 Königswiesen, Austria | | | |
| 18 | 48.409970084172556 | 14.844178960067609 | | | | | |
| 19 | 48.4101749138442 | 14.844329439924707 | | | | | |
| 20 | 48.41043876502718 | 14.844423807424306 | | | | | |
| 21 | 48.41061470911353 | 14.844468485070053 | | | | | |
| 22 | 48.410708861141075 | 14.844773471991175 | | B124, 4280 Königswiesen, Austria | | | |
| 23 | 48.410873000 | 14.844997000 | | | | | |
| 24 | 48.411132650866904 | 14.84522814968227 | | | | | |
| 25 | 48.41137064233999 | 14.845268703191095 | | | | | |
| 26 | 48.41158951352176 | 14.845269240298734 | | B124, 4280 Königswiesen, Austria | | | |
| 27 | 48.41165434847517 | 14.84513753364564 | | | | | |
| 28 | 48.41183775233199 | 14.84503312892545 | | | | | |
| 29 | 48.41239551059638 | 14.844894756869309 | | B124, 4280 Königswiesen, Austria | | | |
| 30 | 48.413067000 | 14.844267000 | | | | | |
| 31 | 48.413731064237794 | 14.84393120598395 | | | | | |
| 32 | 48.414093000 | 14.843688000 | | | | | |
| 33 | 48.414474000 | 14.843044000 | | | | | |
| 34 | 48.414818209911886 | 14.84266435620333 | | | | | |
| 35 | 48.415073000 | 14.842558000 | | | | | |
| 36 | 48.415349666643806 | 14.842567800777516 | | Klammleiten 7, 4280 Königswiesen, Austria | | | |
| 37 | 48.41621797563789 | 14.843097401965963 | | Klammleiten 2, 4280 Königswiesen, Austria | | | |
| 38 | 48.41644505910682 | 14.843075555359206 | | Klammleiten 2, 4280 Königswiesen, Austria | | | |
| 39 | 48.41678349328453 | 14.842971199217772 | | Klammleiten 2, 4280 Königswiesen, Austria | | | |
| 40 | 48.41720981625764 | 14.84308209044221 | | | | | |
| 41 | 48.41741866750357 | 14.843030414865467 | | Klammleiten 11, 4280 Königswiesen, Austria | | | |
| 42 | 48.41769078470156 | 14.842884377451554 | | Klammleiten 11, 4280 Königswiesen, Austria | | | |
| 43 | 48.41792145914255 | 14.842932900151453 | | Klammleiten 9, 4280 Königswiesen, Austria | | | |
| 44 | 48.41800523420207 | 14.84299852801334 | | Klammleiten 9, 4280 Königswiesen, Austria | | | |
| 45 | 48.418343000 | 14.843797000 | | | | | |
| 46 | 48.4184964891798 | 14.84406315449661 | | Klammleiten 8, 4280 Königswiesen, Austria | | | |
| 47 | 48.41883325019168 | 14.844527491411043 | | Klammleiten 8, 4280 Königswiesen, Austria | | | |
| 48 | 48.418929107660546 | 14.844749597964892 | | Klammleiten 8, 4280 Königswiesen, Austria | | | |
| 49 | 48.418966409564746 | 14.845080826156902 | | Klammleiten 8, 4280 Königswiesen, Austria | | | |
| 50 | 48.41892976247743 | 14.845862043244608 | | Klammleiten 6, 4280 Königswiesen, Austria | | | |
| 51 | 48.41899737198477 | 14.846049550886619 | | Klammleiten 6, 4280 Königswiesen, Austria | | | |
| 52 | 48.419285000 | 14.846096000 | | | | | |
| 53 | 48.41990954658738 | 14.846164130424256 | | Klammleiten 6, 4280 Königswiesen, Austria | | | |
| 54 | 48.420161031917615 | 14.84636491693422 | | | | | |
| 55 | 48.4203106892036 | 14.846441364522349 | | | | | |
| 56 | 48.420372000 | 14.846364000 | | | | | |
| 57 | 48.42065243732142 | 14.846197028106275 | | Klammleiten 6, 4280 Königswiesen, Austria | | | |
| 58 | 48.42072522673601 | 14.846081754381032 | | Klammleiten 6, 4280 Königswiesen, Austria | | | |
| 59 | 48.420742000 | 14.846039000 | | | | | |
| 60 | 48.420851182546386 | 14.846051371775502 | | Klammleiten 6, 4280 Königswiesen, Austria | | | |
| 61 | 48.4209343454971 | 14.846194542830915 | | Klammleiten 6, 4280 Königswiesen, Austria | | | Rest point after a steep climb. |
| 62 | 48.421177000 | 14.846085000 | | | | | |
| 63 | 48.421597000 | 14.846757000 | | | | | |
| 64 | 48.421837000 | 14.846917000 | | | | | |
| 65 | 48.422005000 | 14.847748000 | | | | | |
| 66 | 48.422146000 | 14.847933000 | | | | | |
| 67 | 48.422165000 | 14.848241000 | | | | | |
| 68 | 48.422253000 | 14.848351000 | | | | | Take a break after a steep climb. |
| 69 | 48.422752000 | 14.848412000 | | | | | |
| 70 | 48.422916000 | 14.848613000 | | | | | |
| 71 | 48.423100000 | 14.848609000 | | | | | |
| 72 | 48.423431000 | 14.848785000 | | Klammleiten Wanderweg, 4280 Königswiesen, Austria | | | Teufelsmühle. |
| 73 | 48.423683000 | 14.848730000 | | | | | |
| 74 | 48.423836000 | 14.848779000 | | | | | |
| 75 | 48.423996000 | 14.849041000 | | | | | |
| 76 | 48.424232000 | 14.849114000 | | | | | |
| 77 | 48.424320000 | 14.849081000 | | | | | |
| 78 | 48.424442000 | 14.849221000 | | | | | |
| 79 | 48.424686000 | 14.849221000 | | | | | |
| 80 | 48.424747000 | 14.849325000 | | | | | |
| 81 | 48.424908000 | 14.849358000 | | | | | |
| 82 | 48.425026000 | 14.849507000 | | | | | |
| 83 | 48.425121000 | 14.849523000 | | | | | |
| 84 | 48.425240000 | 14.849392000 | | | | | |
| 85 | 48.425346000 | 14.849398000 | | | | | |
| 86 | 48.425457000 | 14.849214000 | | | | | |
| 87 | 48.425747000 | 14.849233000 | | | | | |
| 88 | 48.425884000 | 14.849088000 | | | | | |
| 89 | 48.425999000 | 14.849087000 | | | | | |
| 90 | 48.426365000 | 14.848901000 | | | | | |
| 91 | 48.426456000 | 14.848729000 | | | | | |
| 92 | 48.426662000 | 14.848696000 | | | | | |
| 93 | 48.427006000 | 14.848199000 | | | | | |
| 94 | 48.427006000 | 14.847927000 | | | | | |
| 95 | 48.427120000 | 14.847809000 | | | | | |
| 96 | 48.427296000 | 14.847756000 | | | | | |
| 97 | 48.427643000 | 14.847430000 | | | | | |
| 98 | 48.427799000 | 14.847457000 | | | | | |
| 99 | 48.428070000 | 14.847317000 | | | | | |
| 100 | 48.42841888659865 | 14.847164896841804 | | Harlingsedt 8, 4280 Königswiesen, Austria | | | |
| 101 | 48.428782567075814 | 14.846950481433169 | | Harlingsedt 8, 4280 Königswiesen, Austria | | | Holzschwemme. |
| 102 | 48.429047000 | 14.846584000 | | | | | |
| 103 | 48.429218000 | 14.846540000 | | Enebitschlag 12, 4280 Königswiesen, Austria | | | Until which year did they use the Holzschwemme |
| 104 | 48.429638000 | 14.846571000 | | | | | |
| 105 | 48.429863000 | 14.846843000 | | | | | |
| 106 | 48.430019000 | 14.846878000 | | | | | |
| 107 | 48.430096000 | 14.846968000 | | | | | |
| 108 | 48.430252000 | 14.846930000 | | | | | |
| 109 | 48.430485000 | 14.847039000 | | | | | |
| 110 | 48.430584000 | 14.846985000 | | | | | |
| 111 | 48.430737000 | 14.847147000 | | | | | |
| 112 | 48.430946000 | 14.847121000 | | | | | |
| 113 | 48.431202000 | 14.847340000 | | | | | |
| 114 | 48.431374000 | 14.847343000 | | | | | |
| 115 | 48.431381000 | 14.847417000 | | | | | |
| 116 | 48.431561000 | 14.847462000 | | | | | |
| 117 | 48.431732000 | 14.847659000 | | | | | |
| 118 | 48.432095 | 14.847588 | | Haid 26, 4273 Königswiesen, Austria | | | Climb on the Kanzlstein. |
| 119 | 48.432365000 | 14.847653000 | | Haid 26, 4273 Königswiesen, Austria | | | Take some pictures on the Kanzlstein. |
| 120 | 48.433022000 | 14.847333000 | | | | | |
| 121 | 48.433380000 | 14.847283000 | | | | | |
| 122 | 48.433846000 | 14.847018000 | | | | | |
| 123 | 48.434307000 | 14.846919000 | | | | | |
| 124 | 48.434639000 | 14.846958000 | | | | | |
| 125 | 48.434887000 | 14.847211000 | | | | | |
| 126 | 48.43507882317306 | 14.847266646138223 | | Haid 26, 4273 Königswiesen, Austria | | | |
| 127 | 48.43506719030415 | 14.847316049430361 | | Haid 26, 4273 Königswiesen, Austria | | | |
| 128 | 48.435096240804455 | 14.847452514797084 | | Haid 26, 4273 Königswiesen, Austria | | | |
| 129 | 48.43536939026595 | 14.84759729132685 | | Haid 26, 4273 Königswiesen, Austria | | | |
| 130 | 48.435518337282105 | 14.847598326217621 | | Haid 26, 4273 Königswiesen, Austria | | | What is the name of this watermill |
| 131 | 48.435604000 | 14.847472000 | | | | | |
| 132 | 48.435734000 | 14.847231000 | | | | | |
| 133 | 48.435959000 | 14.847124000 | | | | | |
| 134 | 48.436470000 | 14.847023000 | | | | | |
| 135 | 48.436623000 | 14.846733000 | | | | | |
| 136 | 48.436707000 | 14.846706000 | | | | | |
| 137 | 48.436970000 | 14.846785000 | | | | | |
| 138 | 48.437309000 | 14.847100000 | | | | | |
| 139 | 48.437531000 | 14.847147000 | | | | | |
| 140 | 48.437687000 | 14.847064000 | | | | | |
| 141 | 48.437809000 | 14.847216000 | | | | | |
| 142 | 48.438217000 | 14.847360000 | | Enebitschlag, 4273 Unterweißenbach, Austria | | | Beautiful river. |
| 143 | 48.438631063777535 | 14.847766333997924 | | Enebitschlag, 4273 Königswiesen, Austria | | | |
| 144 | 48.438953000 | 14.847789000 | | | | | |
| 145 | 48.439110000 | 14.847800000 | | | | | |
| 146 | 48.439350000 | 14.847960000 | | | | | |
| 147 | 48.439606000 | 14.848261000 | | | | | |
| 148 | 48.439903000 | 14.848145000 | | | | | |
| 149 | 48.440258000 | 14.848187000 | | | | | |
| 150 | 48.440639000 | 14.847835000 | | | | | |
| 151 | 48.441021000 | 14.847835000 | | | | | |
| 152 | 48.441246000 | 14.847955000 | | | | | |
| 153 | 48.441795000 | 14.848603000 | | | | | |
| 154 | 48.442181000 | 14.848866000 | | | | | |
| 155 | 48.442661000 | 14.849386000 | | | | | |
| 156 | 48.442581000 | 14.850663000 | | | | | |
| 157 | 48.442616000 | 14.850906000 | | | | | |
| 158 | 48.442535000 | 14.851276000 | | | | | |
| 159 | 48.442307000 | 14.851850000 | | | | | |
| 160 | 48.442081000 | 14.852763000 | | | | | |
| 161 | 48.441360000 | 14.854403000 | | | | | |
| 162 | 48.441044000 | 14.856384000 | | | | | |
| 163 | 48.440994000 | 14.856426000 | | | | | |
| 164 | 48.440487000 | 14.856181000 | | | | | |
| 165 | 48.440140000 | 14.855787000 | | | | | |
| 166 | 48.439758000 | 14.855515000 | | | | | |
| 167 | 48.437981 | 14.854811 | | | | | |
| 168 | 48.43770845252962 | 14.854594313364998 | | | | | |
| 169 | 48.43827991947168 | 14.85266214954649 | | Haid 34, 4280 Königswiesen, Austria | | | Climb on the rocks and take some pictures. |
| 170 | 48.4375599706641 | 14.854413027381327 | | Haid 25, 4280 Königswiesen, Austria | | | Beautiful views on the rocks. |
| 171 | 48.436543000 | 14.853001000 | | | | | |
| 172 | 48.436329000 | 14.852940000 | | | | | |
| 173 | 48.436073000 | 14.853071000 | | | | | |
| 174 | 48.435925000 | 14.853642000 | | | | | |
| 175 | 48.436039000 | 14.855303000 | | | | | |
| 176 | 48.435940000 | 14.856515000 | | | | | |
| 177 | 48.435665000 | 14.857055000 | | | | | Watch out for the dog! |
| 178 | 48.435230000 | 14.858266000 | | | | | |
| 179 | 48.434826000 | 14.858602000 | | | | | |
| 180 | 48.434605000 | 14.858899000 | | | | | |
| 181 | 48.434151000 | 14.859966000 | | | | | |
| 182 | 48.433300000 | 14.860789000 | | | | | |
| 183 | 48.433136000 | 14.861081000 | | | | | |
| 184 | 48.432953000 | 14.862027000 | | | | | |
| 185 | 48.432967557983176 | 14.862817574783548 | | Haid 53, 4280 Königswiesen, Austria | | | |
| 186 | 48.432904388508916 | 14.863453995160825 | | Haid 2, 4280 Königswiesen, Austria | | | |
| 187 | 48.43281463981063 | 14.863676145600948 | | B124, 4280 Königswiesen, Austria | | | |
| 188 | 48.43263037493051 | 14.863600850964076 | | B124, 4280 Königswiesen, Austria | | | |
| 189 | 48.43214146252913 | 14.863633049235204 | | B124, 4280 Königswiesen, Austria | | | You're about halfway. This is a nice place to have some coffee an... |
| 190 | 48.43219637592534 | 14.86428535450412 | | Haid 8, 4280 Königswiesen, Austria | | | |
| 191 | 48.432205000 | 14.864709000 | | | | | |
| 192 | 48.432026000 | 14.865509000 | | | | | |
| 193 | 48.431637000 | 14.866324000 | | | | | |
| 194 | 48.431637000 | 14.866537000 | | | | | |
| 195 | 48.431673275045824 | 14.867349027204455 | | Haid 45, 4280 Königswiesen, Austria | | | |
| 196 | 48.43168567787464 | 14.868146324019591 | | Haid 45, 4280 Königswiesen, Austria | | | |
| 197 | 48.43181114067582 | 14.869318515889063 | | Haid 45, 4280 Königswiesen, Austria | | | |
| 198 | 48.43180085102216 | 14.870202440104578 | | Haid 45, 4280 Königswiesen, Austria | | | |
| 199 | 48.431381000 | 14.871946000 | | | | | |
| 200 | 48.431278000 | 14.873044000 | | | | | |
| 201 | 48.431152000 | 14.873345000 | | | | | |
| 202 | 48.430813 | 14.873852 | | Haid 10, 4280 Königswiesen, Austria | | | Watch out for the dog! |
| 203 | 48.430637000 | 14.873960000 | | | | | |
| 204 | 48.430466000 | 14.873925000 | | | | | |
| 205 | 48.430134000 | 14.873599000 | | | | | |
| 206 | 48.429989000 | 14.872931000 | | | | | |
| 207 | 48.429981000 | 14.872470000 | | | | | |
| 208 | 48.429909000 | 14.872324000 | | | | | |
| 209 | 48.429798000 | 14.872256000 | | | | | |
| 210 | 48.429680000 | 14.872303000 | | | | | |
| 211 | 48.429054000 | 14.873048000 | | | | | |
| 212 | 48.428237919152394 | 14.873589348740524 | | | | | Nice views |
| 213 | 48.427542047912226 | 14.871478861472497 | | | | | |
| 214 | 48.426205009338844 | 14.870049007282717 | | Hörzenschlag 3, 4280 Königswiesen, Austria | | | How old is this chapel |
| 215 | 48.42745283122403 | 14.871725468862365 | | Hörzenschlag 1, 4280 Königswiesen, Austria | | | |
| 216 | 48.426820091979806 | 14.871874513349155 | | Hörzenschlag 7, 4280 Königswiesen, Austria | | | Climb on the rocks and take a picture of this view |
| 217 | 48.4262357541931 | 14.87226503026244 | | Hörzenschlag 11, 4280 Königswiesen, Austria | | | |
| 218 | 48.42585031841551 | 14.872585591331415 | | Hörzenschlag 11, 4280 Königswiesen, Austria | | | |
| 219 | 48.42539580748229 | 14.872595125142112 | | Hörzenschlag 11, 4280 Königswiesen, Austria | | | |
| 220 | 48.42493765374638 | 14.872789552625022 | | Hörzenschlag 6, 4280 Königswiesen, Austria | | | |
| 221 | 48.42474873582438 | 14.872885573980966 | | Hörzenschlag 6, 4280 Königswiesen, Austria | | | |
| 222 | 48.42467496743831 | 14.87288995721488 | | | | | |
| 223 | 48.424597461220884 | 14.87285445473239 | | | | | |
| 224 | 48.42452790445404 | 14.872698496791713 | | Hörzenschlag 6, 4280 Königswiesen, Austria | | | |
| 225 | 48.424484330299435 | 14.872627133481416 | | Hörzenschlag 6, 4280 Königswiesen, Austria | | | |
| 226 | 48.4244285878498 | 14.872609252368818 | | Hörzenschlag 6, 4280 Königswiesen, Austria | | | |
| 227 | 48.42437677242492 | 14.872637340461552 | | | | | |
| 228 | 48.424317772837725 | 14.872742031507613 | | | | | |
| 229 | 48.42427244595362 | 14.872853686274425 | | Hörzenschlag 6, 4280 Königswiesen, Austria | | | |
| 230 | 48.42421556921283 | 14.873167149633218 | | | | | |
| 231 | 48.424208213191264 | 14.873466820557098 | | Hörzenschlag 6, 4280 Königswiesen, Austria | | | |
| 232 | 48.4241544812937 | 14.873622284058428 | | Hörzenschlag 6, 4280 Königswiesen, Austria | | | |
| 233 | 48.42402863748541 | 14.873718695315262 | | Hörzenschlag 6, 4280 Königswiesen, Austria | | | |
| 234 | 48.42385554039856 | 14.873737671894247 | | Hörzenschlag 6, 4280 Königswiesen, Austria | | | |
| 235 | 48.42374516909922 | 14.873574877588993 | | Hörzenschlag 6, 4280 Königswiesen, Austria | | | |
| 236 | 48.423659082446335 | 14.873324223317468 | | Hörzenschlag 6, 4280 Königswiesen, Austria | | | |
| 237 | 48.423672783989105 | 14.873104779959704 | | Hörzenschlag 6, 4280 Königswiesen, Austria | | | Beautiful river. |
| 238 | 48.42373978663221 | 14.872881344229114 | | Hörzenschlag 6, 4280 Königswiesen, Austria | | | |
| 239 | 48.42372615858298 | 14.872819324378696 | | | | | |
| 240 | 48.42363486110065 | 14.872768514299992 | | | | | |
| 241 | 48.42360520380004 | 14.87271715167168 | | | | | |
| 242 | 48.42361878046765 | 14.87260434595396 | | | | | |
| 243 | 48.42367477636722 | 14.872390912185608 | | | | | |
| 244 | 48.42367362552838 | 14.872214288091016 | | Hörzenschlag 6, 4280 Königswiesen, Austria | | | |
| 245 | 48.42363249214958 | 14.872098596900258 | | Hörzenschlag 6, 4280 Königswiesen, Austria | | | |
| 246 | 48.42341005412186 | 14.871888430224573 | | Hörzenschlag 6, 4280 Königswiesen, Austria | | | |
| 247 | 48.42321695846152 | 14.871556299153156 | | Hörzenschlag 4, 4280 Königswiesen, Austria | | | |
| 248 | 48.423035648732565 | 14.871238061239808 | | Hörzenschlag 4, 4280 Königswiesen, Austria | | | |
| 249 | 48.42254059361514 | 14.870815541360457 | | Hörzenschlag 4, 4280 Königswiesen, Austria | | | |
| 250 | 48.422131000 | 14.870046000 | | | | | |
| 251 | 48.421822000 | 14.869827000 | | | | | |
| 252 | 48.421368000 | 14.869726000 | | | | | |
| 253 | 48.421108000 | 14.869581000 | | | | | |
| 254 | 48.420891000 | 14.869561000 | | | | | |
| 255 | 48.420750000 | 14.869393000 | | B124, 4280 Königswiesen, Austria | | | How many meters above sea level is this point |
| 256 | 48.420300000 | 14.867765000 | | | | | |
| 257 | 48.420280000 | 14.866525000 | | | | | |
| 258 | 48.420132000 | 14.866367000 | | | | | |
| 259 | 48.419731000 | 14.866440000 | | | | | |
| 260 | 48.419327000 | 14.866210000 | | | | | |
| 261 | 48.419025000 | 14.866118000 | | | | | Climb on the Kanzlstein and take some pictures. |
| 262 | 48.418858000 | 14.865709000 | | | | | |
| 263 | 48.418755000 | 14.864805000 | | | | | |
| 264 | 48.418606000 | 14.864332000 | | | | | |
| 265 | 48.418419000 | 14.864087000 | | | | | |
| 266 | 48.417953000 | 14.863632000 | | | | | |
| 267 | 48.417847000 | 14.863730000 | | | | | |
| 268 | 48.417633000 | 14.864450000 | | | | | |
| 269 | 48.417515000 | 14.864631000 | | | | | |
| 270 | 48.416962000 | 14.864786000 | | | | | |
| 271 | 48.416618000 | 14.864619000 | | | | | |
| 272 | 48.416397000 | 14.864605000 | | | | | |
| 273 | 48.415829000 | 14.864014000 | | | | | |
| 274 | 48.415421000 | 14.863443000 | | | | | |
| 275 | 48.41455136452066 | 14.862571371437099 | | Güterweg Paroxedt 11, 4280 Königswiesen, Austria | | | |
| 276 | 48.414143000 | 14.861793000 | | | | | |
| 277 | 48.414024000 | 14.861517000 | | | | | |
| 278 | 48.413982000 | 14.860726000 | | | | | Holzschwemme. |
| 279 | 48.413857000 | 14.860200000 | | | | | |
| 280 | 48.413826000 | 14.859242000 | | | | | |
| 281 | 48.413509 | 14.85856 | | Güterweg Paroxedt 13, 4280 Königswiesen, Austria | | | What is the name of the river behind this house |
| 282 | 48.41309435264364 | 14.85804206852481 | | Güterweg Paroxedt 13, 4280 Königswiesen, Austria | | | |
| 283 | 48.41299650494133 | 14.857857478031747 | | Güterweg Paroxedt 13, 4280 Königswiesen, Austria | | | |
| 284 | 48.41291349653022 | 14.857712626587386 | | Güterweg Paroxedt 13, 4280 Königswiesen, Austria | | | |
| 285 | 48.412913560224695 | 14.85766410914124 | | | | | |
| 286 | 48.41293586960197 | 14.85765197204239 | | | | | |
| 287 | 48.41298091376467 | 14.857672339086577 | | | | | |
| 288 | 48.41303443969733 | 14.85769377522385 | | | | | |
| 289 | 48.41310575350471 | 14.857700778457286 | | Güterweg Paroxedt 13, 4280 Königswiesen, Austria | | | |
| 290 | 48.41314629111403 | 14.857686725781889 | | Güterweg Paroxedt 13, 4280 Königswiesen, Austria | | | |
| 291 | 48.413174124041575 | 14.857647105526922 | | | | | |
| 292 | 48.41318371795194 | 14.85760533762189 | | | | | |
| 293 | 48.41318943601354 | 14.857494391777692 | | | | | |
| 294 | 48.41316157814592 | 14.85739459340661 | | | | | |
| 295 | 48.41306299115189 | 14.85719117590483 | | | | | |
| 296 | 48.41299507491101 | 14.857069583445082 | | Güterweg Paroxedt 13, 4280 Königswiesen, Austria | | | |
| 297 | 48.41294730277738 | 14.856914205828332 | | Güterweg Paroxedt 13, 4280 Königswiesen, Austria | | | |
| 298 | 48.4128680189892 | 14.856371733064805 | | | | | |
| 299 | 48.41277049792791 | 14.855802469330428 | | | | | |
| 300 | 48.41258942633365 | 14.855121841824541 | | | | | |
| 301 | 48.41244974642339 | 14.854836212752701 | | | | | |
| 302 | 48.412233763696406 | 14.854597497893877 | | | | | |
| 303 | 48.41215014077062 | 14.854453308538865 | | | | | |
| 304 | 48.41200063904438 | 14.854002823668395 | | | | | |
| 305 | 48.41187619053596 | 14.85372852646654 | | | | | |
| 306 | 48.4117235485034 | 14.85360341019566 | | | | | |
| 307 | 48.41143056615633 | 14.853450563768547 | | Herzogweg 4, 4280 Königswiesen, Austria | | | TeufelsMühle. |
| 308 | 48.41128202376447 | 14.853282864938706 | | Herzogweg 4, 4280 Königswiesen, Austria | | | |
| 309 | 48.41054156787624 | 14.852255010247575 | | Herzogweg 4, 4280 Königswiesen, Austria | | | |
| 310 | 48.410460257352355 | 14.851937380213172 | | | | | |
| 311 | 48.41045413964241 | 14.851572138400343 | | Herzogweg 4, 4280 Königswiesen, Austria | | | Take some pictures of Königswiesen. |
| 312 | 48.410587000 | 14.850855000 | | | | | |
| 313 | 48.41080792255241 | 14.849850053684833 | | Herzogweg 6, 4280 Königswiesen, Austria | | | |
| 314 | 48.410824027284605 | 14.849583386574295 | | | | | |
| 315 | 48.41077047290446 | 14.849348209049197 | | | | | |
| 316 | 48.410639411407544 | 14.849079627261773 | | | | | |
| 317 | 48.41067181486662 | 14.848877360212498 | | | | | |
| 318 | 48.41077986656936 | 14.848772285296747 | | Herzogweg 6, 4280 Königswiesen, Austria | | | |
| 319 | 48.410877714005835 | 14.84863659711624 | | Herzogweg 6, 4280 Königswiesen, Austria | | | |
| 320 | 48.4108465672947 | 14.847939760619454 | | | | | |
| 321 | 48.410887181185586 | 14.847689402463658 | | | | | |
| 322 | 48.411033459540306 | 14.846559857958596 | | | | | |
| 323 | 48.411120807657085 | 14.846047634813715 | | Herzogweg 7, 4280 Königswiesen, Austria | | | |
| 324 | 48.41107604760788 | 14.84575868488676 | | Herzogweg 7, 4280 Königswiesen, Austria | | | |
| 325 | 48.410805660009856 | 14.845257571155742 | | Herzogweg 7, 4280 Königswiesen, Austria | | | |
| 326 | 48.410493119240414 | 14.845578092924512 | | Herzogweg 7, 4280 Königswiesen, Austria | | | |
| 327 | 48.41027808508147 | 14.845939583598891 | | Herzogweg 7, 4280 Königswiesen, Austria | | | Karlinger Gasthaus |
| 328 | 48.41019855833963 | 14.84621514270475 | | Herzogweg 7, 4280 Königswiesen, Austria | | | |
| 329 | 48.41018926398769 | 14.846569440733589 | | Herzogweg 7, 4280 Königswiesen, Austria | | | |
| 330 | 48.41015936638399 | 14.8468912617505 | | Herzogweg 6, 4280 Königswiesen, Austria | | | |
| 331 | 48.41004748550054 | 14.847173592797958 | | Herzogweg 6, 4280 Königswiesen, Austria | | | |
| 332 | 48.40987287546079 | 14.847496975407807 | | Herzogweg 6, 4280 Königswiesen, Austria | | | |
| 333 | 48.409716054344784 | 14.847684361446369 | | Herzogweg 6, 4280 Königswiesen, Austria | | | |
| 334 | 48.4095574438071 | 14.847719352012064 | | Herzogweg 6, 4280 Königswiesen, Austria | | | |
| 335 | 48.40938269241494 | 14.847644235586273 | | Herzogweg 3, 4280 Königswiesen, Austria | | | What is the name of this river |
| 336 | 48.40921950399425 | 14.847520582796136 | | Herzogweg 3, 4280 Königswiesen, Austria | | | |
| 337 | 48.40879271498639 | 14.846605480480122 | | | | | |
| 338 | 48.40851771225002 | 14.846289360152667 | | | | | |
| 339 | 48.40833285695285 | 14.846017110099808 | | | | | |
| 340 | 48.40804579838289 | 14.845513684359219 | | | | | |
| 341 | 48.407951855952746 | 14.845237946560559 | | | | | |
| 342 | 48.40789756030702 | 14.844883769602092 | | Herzogweg 2, 4280 Königswiesen, Austria | | | What do they make over here |
| 343 | 48.40784799105066 | 14.844536026930967 | | | | | |
| 344 | 48.40778600392534 | 14.844266826635987 | | | | | |
| 345 | 48.40767786119079 | 14.843977433433025 | | | | | |
| 346 | 48.4075738339846 | 14.843766929981399 | | | | | |
| 347 | 48.40744107068264 | 14.84363380378349 | | | | | |
| 348 | 48.40729058490791 | 14.843571643473155 | | | | | |
| 349 | 48.40709929070874 | 14.843589022041925 | | | | | |
| 350 | 48.40687688559029 | 14.843581413072002 | | | | | |
| 351 | 48.40642236247268 | 14.843509159043009 | | | | | |
| 352 | 48.40568373692122 | 14.843342977003232 | | | | | |
| 353 | 48.40535781666213 | 14.843260779532017 | | | | | |
| 354 | 48.40518424514005 | 14.843197904783523 | | | | | |
| 355 | 48.4049960795293 | 14.843086739746695 | | | | | |
| 356 | 48.40481295113892 | 14.842940451215668 | | | | | |
| 357 | 48.40459979359534 | 14.842746342374767 | | | | | |
| 358 | 48.404327694047794 | 14.842503701672996 | | | | | |
| 359 | 48.40415110069958 | 14.842346282057775 | | | | | |
| 360 | 48.40399240555715 | 14.842200272533148 | | | | | |
| 361 | 48.40391105313293 | 14.842096047107447 | | | | | |
| 362 | 48.40385891625337 | 14.84197898165516 | | | | | |
| 363 | 48.403796521236984 | 14.84178730751077 | | | | | |
| 364 | 48.40370414256648 | 14.841673484003763 | | | | | |
| 365 | 48.40376860830841 | 14.841339537112276 | | | | | |
| 366 | 48.40380298773073 | 14.841138240391643 | | | | | |
| 367 | 48.40381920988989 | 14.840633658430278 | | | | | |
| 368 | 48.40380618442467 | 14.839953755798433 | | | | | |
| 369 | 48.40380338454227 | 14.839428509218067 | | | | | |
| 370 | 48.40385751432433 | 14.83916059844347 | | | | | |
| 371 | 48.4039464429257 | 14.838922909376379 | | | | | |
| 372 | 48.404077372331926 | 14.838720053903899 | | Greiner Straße 10, 4280 Königswiesen, Austria | | | |
| 373 | 48.40415352695402 | 14.838846437383836 | | | | | |
| 374 | 48.4042373173389 | 14.83895077665693 | | | | | |
| 375 | 48.40437313137153 | 14.839000985111 | | | | | |
| 376 | 48.40454499044543 | 14.839098266101672 | | | | | |
| 377 | 48.404744729888336 | 14.839150401819381 | | | | | Karlinger. Good cafe restaurant. |
| 378 | 48.404989040311364 | 14.839256694024101 | | | | | |
| 379 | 48.40524506764078 | 14.83946978649331 | | | | | |
| 380 | 48.40544681913218 | 14.839588160350502 | | | | | |
| 381 | 48.405510061619566 | 14.839600467157794 | | | | | |
| 382 | 48.40552751334292 | 14.839640976928138 | | | | | |
| 383 | 48.40557487390771 | 14.839719557764113 | | | | | |
| 384 | 48.405627358922175 | 14.839728214959905 | | | | | |
| 385 | 48.40566355487434 | 14.83976882165814 | | | | | |
| 386 | 48.40570820969526 | 14.839785953635754 | | | | | |
| 387 | 48.40579122391452 | 14.839830231942614 | | | | | |
| 388 | 48.405990277834945 | 14.839926419520594 | | | | | |
| 389 | 48.40627579477575 | 14.840078226386908 | | Markt 26, 4280 Königswiesen, Austria | | | Karlinger Gasthof. Good restaurant! |
| 390 | 48.406450413024174 | 14.840185444503959 | | Markt 24, 4280 Königswiesen, Austria | | | |
| | | | | |
| --- | --- | --- | --- | --- |
| 48.41033817858653 | 14.851734889920323 | View over Königswiesen | Herzogweg 4, 4280 Königswiesen | |
| 48.43196237663841 | 14.863885569323912 | Wirt auf da Hoad, hotel restaurant | Haid 8, 4280 Königswiesen | |
| 48.40701597976252 | 14.840488822118516 | Gasthof Karlinger | Markt 24, 4280 Königswiesen | |
| 48.40444057618262 | 14.84042721737842 | Swimming Pool | Only open in summer | |
| 48.43834208754811 | 14.852416338386348 | Beautiful views | 360 degrees view over Austria | |
Points of interest in this tour

View over Königswiesen Herzogweg 4, 4280 Königswiesen
Wirt auf da Hoad, hotel restaurant Haid 8, 4280 Königswiesen
Gasthof Karlinger Markt 24, 4280 Königswiesen
Swimming Pool Only open in summer
Beautiful views 360 degrees view over Austria
(Click on the markers in the map)
What is Outdoor Puzzle Tours?
The concept of planned car rallies, city walks and walking and cycling tours is not a new one, and many beautiful trips are already available. However, often the navigator is so busy finding the route and deciding which way to go that they often miss much of the beautiful surroundings through which they drive, cycled or hike through. Worse still, often, they can lose their orientation and end up somewhere completely 'off-piste'. This is a great pity because there are so many beautiful things to see along the way.
We have created tours that put an end to this by going a step further allowing everyone to enjoy the stunning surroundings as we guide you along the most beautiful roads, bicycle and walking routes. Above all, you get educational information about the area with a little fun included. Solving puzzles and reading interesting information helps make the tours a fantastic, fun and informative getaway whilst avoiding the stress of navigation.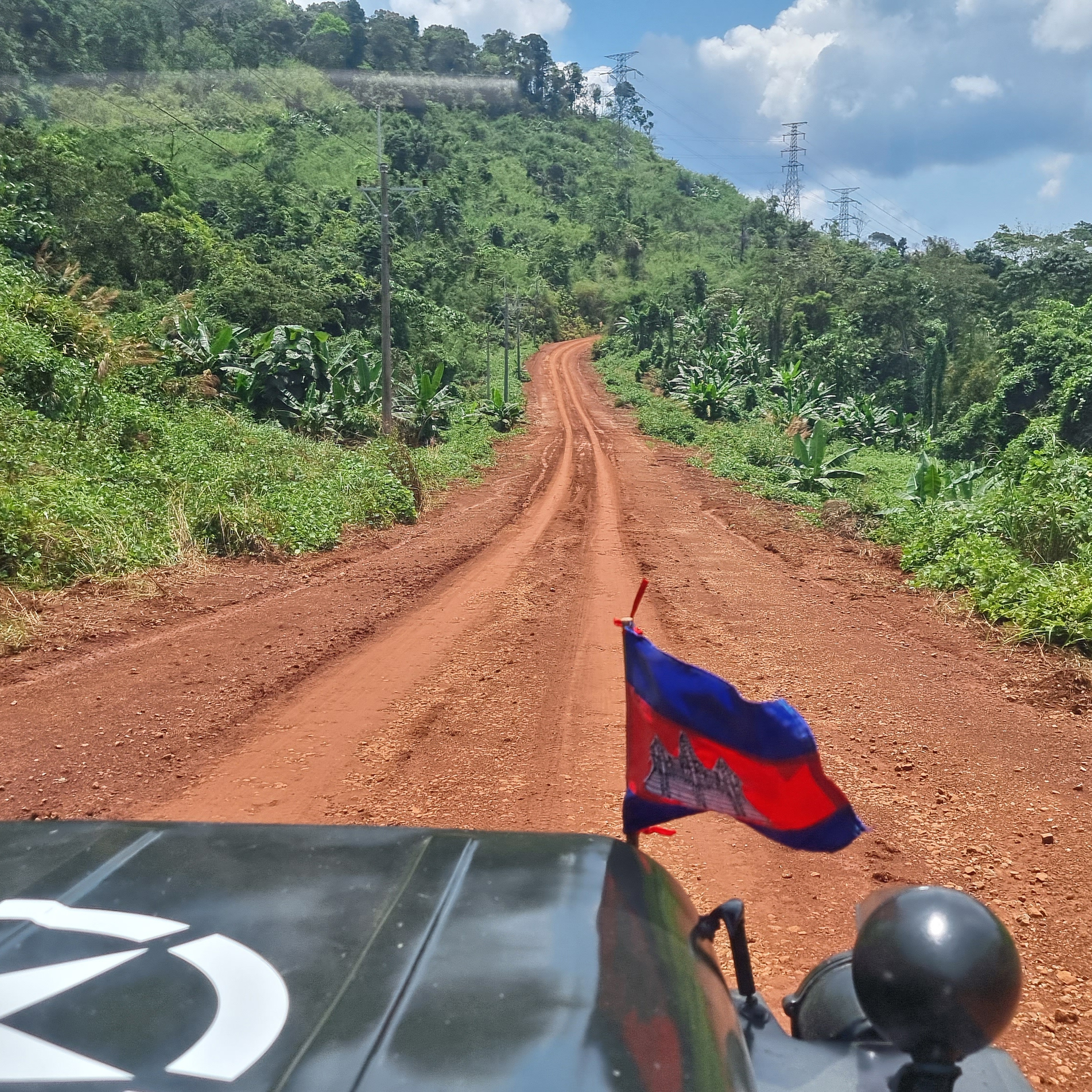 Discover
Discover the beautiful spots, hidden gems in cities, parks, mountains and more.
Learn
Learn about the local history included in our tours. Our tours are created by local specialists.
Interactive
Our tours are interactive with riddles, questions and information.
Discover our Latest Tours
Example Tour: Angkor Thom bicycle tour
Angkor Complex
4-7 hours
23.69 km
English
14.95 EUR

Difficulty:

Min: 20.36m. - Max: 55.66m.

J

F

M

A

M

J

J

A

S

O

N

D

Today you will cycle through one of the most beautiful temple areas of the world. We will show you literally and figuratively all corners of Angkor Thom. Angkor Thom was founded as the capital of the ...
Example Tour: Siem Reap pagoda bicycle tour
Siem Reap
5 hours
24.97 km
English
14.95 EUR

Difficulty:

Min: 9.47m. - Max: 25.51m.

J

F

M

A

M

J

J

A

S

O

N

D

Cambodia is a Buddhist country. In every village or town you will find several pagodas. Also in Siem Reap are many beautiful pagodas and each pagoda has its own history. During this bicycle tour you w...
Example Tour: Klammleiten Wanderweg
Königswiesen
4-5 hours
14.27 km
English
14.95 EUR

Difficulty:

Min: 566.69m. - Max: 823.83m.

J

F

M

A

M

J

J

A

S

O

N

D

This tour is based on the Klamleiten Wanderweg around Königswiesen, Oberösterreich. About 70% of the tour goes through the forrest around the village. Some parts are steep climbs and this tour is no...
Tours for Everyone
Outdoor Puzzle Tours has tours for everyone. We have tours for individuals, groups and families. Tours for young and old. Walking tours, bicycling and car tours.
Join Us!
Become a Puzzle Tour Designer
Are you or is your company enthusiastic about your city, village or surroundings? Do you know any interesting routes for a car, cycle or walking tour? If so, we would like to talk to you. We also ask for local knowledge of the area, the history of buildings or historical sites, cool facts, in short everything needed to make a nice, interesting tour for other people who don't know your area yet.